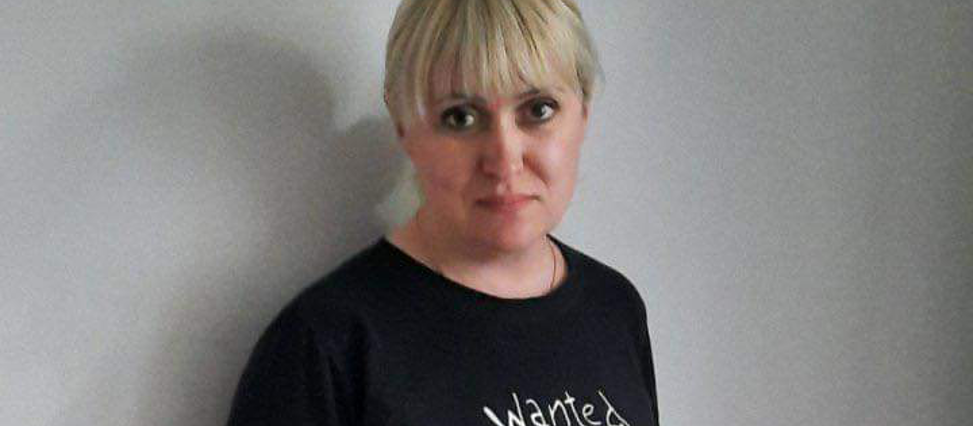 Lyudmila sits in an armchair in a tiny room within a flat that she shares with six people. She fusses with a tissue in her hand. Even before she begins to tell her story, her eyes are wet with tears. In the background, her 16 year-old son can be heard talking with a friend. Lyudmila takes a breath to begin to talk, but begins to cry.
Our life will never be the same again. When I think about it, my tears just choke me. 
After another deep breath, Lyudmila begins to speak about her close family. She lives apart from her son's father, but they communicate well and often. She is very close to her supportive parents, who live in a village, Ohtyrka, which is near to Kharkiv, where Lyudmila grew up.
Before the war, Lyudmila worked in the finance department of a major food agency in a town called Chuguev, which is also near to Kharkiv. The job was stable and well paid and she felt that her family life was totally complete and settled. Her son was studying at school and a keen swimmer. Besides her work, Lyudmila enjoyed many interests: travelling, sports and taking breaks in the countryside with her friends. She and her son enjoyed making future plans and didn't ever imagine that their ambitions would be disrupted so brutally by a war.
I loved the life I had. Now I'm here, I can understand how many things we didn't value properly.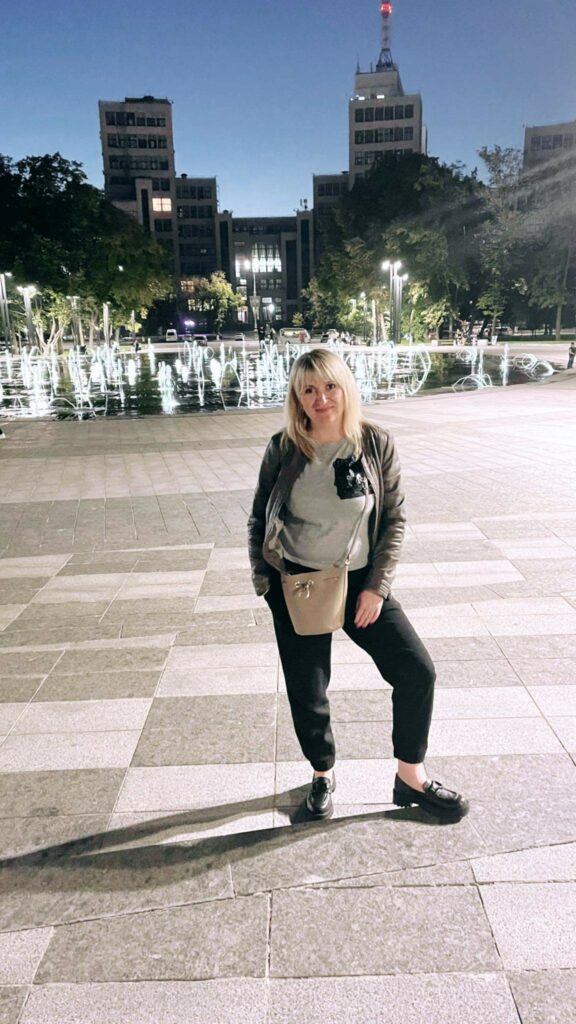 Lyudmila remembers that the week before war broke out was gloomy. There were many depressing discussions about the prospect of war, her friends were anxious about food supplies and people had started to panic buy provisions. Even the weather was grey. However, Lyudmila tried to ignore what she discounted as mild hysteria and carried on living normal, everyday life. 
In the early hours of February 24, Lyudmila and her son were sleeping at home. At 4am she received a call from one of her colleagues who told her that they were under attack. Chuguev is a famous military town where there are many bases – and it was the first town that Russia bombed. Almost as soon as Lyudmila put the phone down she could hear nearby explosions.
My whole body was shaking. I was frightened and didn't know what to do.
Lyudmila shook her son awake. In between answering phone calls from many friends and relatives, who were waking up to the sound of falling bombs, she started to pack. She and her son carried everything they could to the car and decided to go to her friend's house. They arrived safely, but after just a few hours they heard shooting in the near distance.
I still can't explain why, but we all ran out into the street. 
Outside, they gathered with neighbours and, along with ten other people, took the decision to hide together in the cellar of one house.
From that moment, our different lives began. 
Lyudmila and her son stayed in the cellar for seven days. Gradually, other people from the neighbourhood also joined them and soon 30 people were sharing the space. The situation was very difficult and cramped; there was nowhere for people to sleep. No one had been prepared for these circumstances. They had only expected to stay in the cellar for a maximum of around three days, but the situation outside was worsening.
On the last day that they spent in the cellar, they heard the fighter plans flying overhead. She felt that they could be attacked from the air at any moment, without warning. Under extreme stress and pressure, Lyudmila began to think about the different options she and her son had to leave.
It was a moment of pure, indescribable fear. 
On March 3, Lyudmila and her friends packed their children and scant belongings into Lyudmila's car. They started driving with no firm place in mind; they just wanted to get as far away from the threat of bombs as possible. During their journey, they decided to stop at a friend's house near Kharkiv, but the home was already completely overcrowded so volunteers placed them in a nearby hostel. There was no heating and they were only offered travel sleeping bags to keep them warm. Several of the children had already fallen ill and it just felt impossible to stay there, so they left and continued their journey.
The next destination was Poltava, a city located in central Ukraine. Here, they found a place where they could rest, wash their clothes and eat. They still didn't have much of a plan, but followed advice from others about where they might have a good chance of finding shelter. They moved on the next day and were forced to stop in Kropivnickiy because of the curfew there. An unknown man they happened to meet accepted the party into his home and allowed them to stay in his flat for the night.
I knew we just had to keep going, travelling further away. 
The next city they reached in central Ukraine was Uman, where their journey was stalled by a ten hour traffic jam. They managed to find a hotel (named Gaivoron) for the night, and proceeded to head to the east of Ukraine the next day. They passed through Kamianec- Podilskiy and Ternopi and would have stopped to rest but there were no places to stay available. On their way, Lyudmila and her friend were getting in touch with friends and acquaintances, but no one could provide them with shelter.
They arrived in Chernivtsi and found a volunteers organisation and were taken to a local school. The gym was full of beds for refugees to get some sleep and this is where they sheltered for the night.
The older children refused to sleep in those conditions and slept in the car for the night instead. I could understand that decision.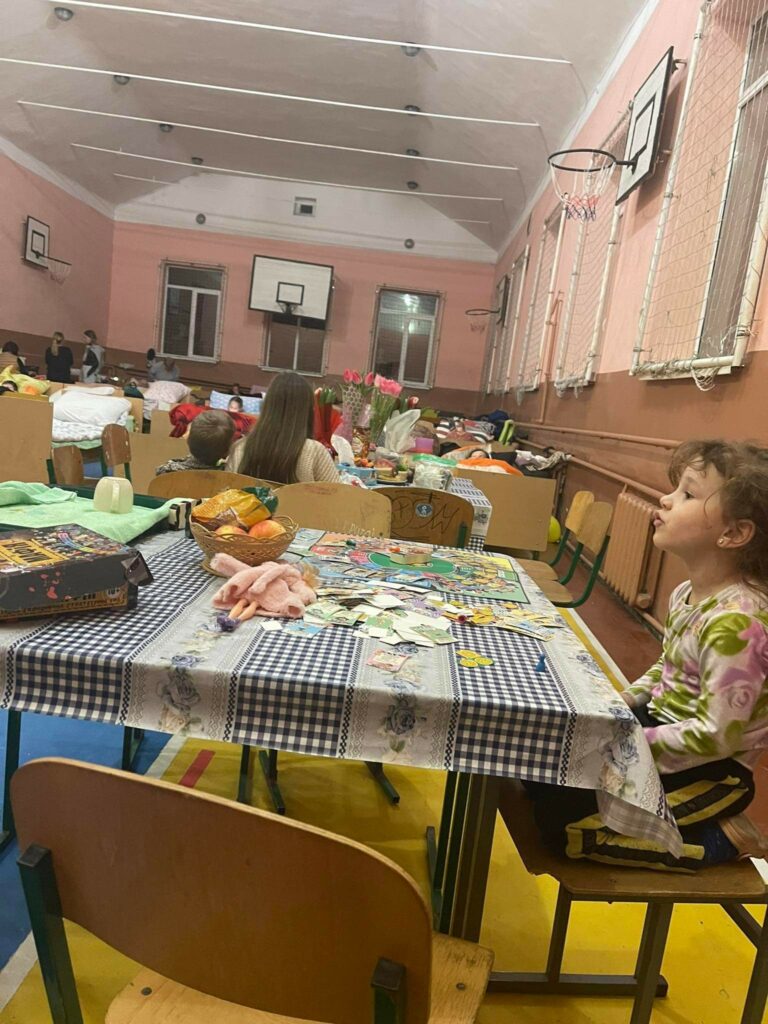 The day after, Lyudmila and her friend met a man named Bogdan. He proposed that they could stay in his house in a village called Luchkivci, near Zolochev. He was very sympathetic and caring towards the whole party. During their stay in his home, local people from the village came to learn of their arrival and many came to show their support.
It felt like the whole village was helping to wash our dirty clothes. People were so supportive. 
During their stay with Bogdan, Lyudmila received a phone call from her niece, who was living and studying in Poland. She had found a place where both friends and their children could stay. On March 11, they crossed the border at Rava-Russkaya into Poland. They passed through the check point very quickly and everything seemed very well organised. The volunteers there helped them greatly, cooking for them and preparing places where they could rest and stay warm.
I want to fall on my knees and thank these people for their care. We are so grateful to everyone who helped us. We were crying when we eventually crossed the border. 
The next stop, once in Poland, was Katowice. Here, they found a Polish woman who accepted them into her home for two days until they could move into the flat where they are staying now.
We were treated like relatives. I am so thankful for the attitude and support that was shown to us. 
However, Lyudmila says that it's very hard for her to be in a position that needs help from others.
I always feel that I owe something to these people that have helped me. Before this, I was totally independent and self-sufficient. 
Now, all six of the party that left Ukraine together stay in the flat in Kozhuv. Everything was arranged for them to feel comfortable and safe. Lyudmila is studying Polish and looking for a job.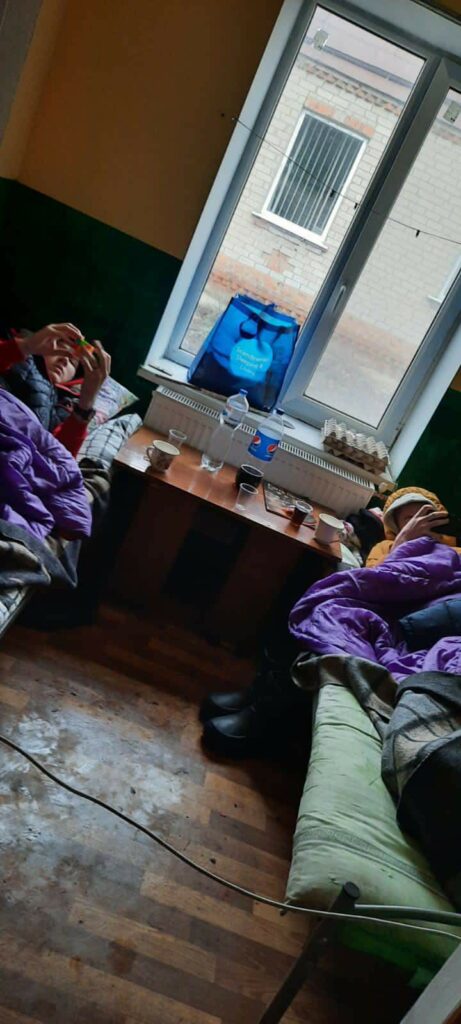 We were given some time to adapt, but now it's time to find a way to feed our children. 
The children attend the local school and kindergarten (Lyudmila's friend's youngest child is four years old). They are settling in okay, but Lyudmila's son is finding it very hard to overcome the events they've been through. He feels constantly anxious and uncomfortable. All the children often ask when they can return home and become upset regularly. But Lyudmila knows that it's too dangerous to return to Kharkiv; it's still constantly under attack. Both mothers try their best to settle the children into this new life but they are suffering with depression and isolating themselves; they don't feel up to communicating with others outside of each other and their children.
One of the hardest things for Lyudmila is that her Russian relatives refuse to believe what they have gone through. They even accuse the children of lying. She says it's impossible to find a common language due to the Russian political propaganda.
They all use the same phrases when they talk; those that they've heard from others and have been told to repeat. 
Both Lyudmila and her friend have a hope that the war will end quickly and that they will all be able to return. But, Lyudmila says she cannot plan for that at the moment.
It's just that no one can predict how long this will last, how long it will take before Ukraine is stable again.