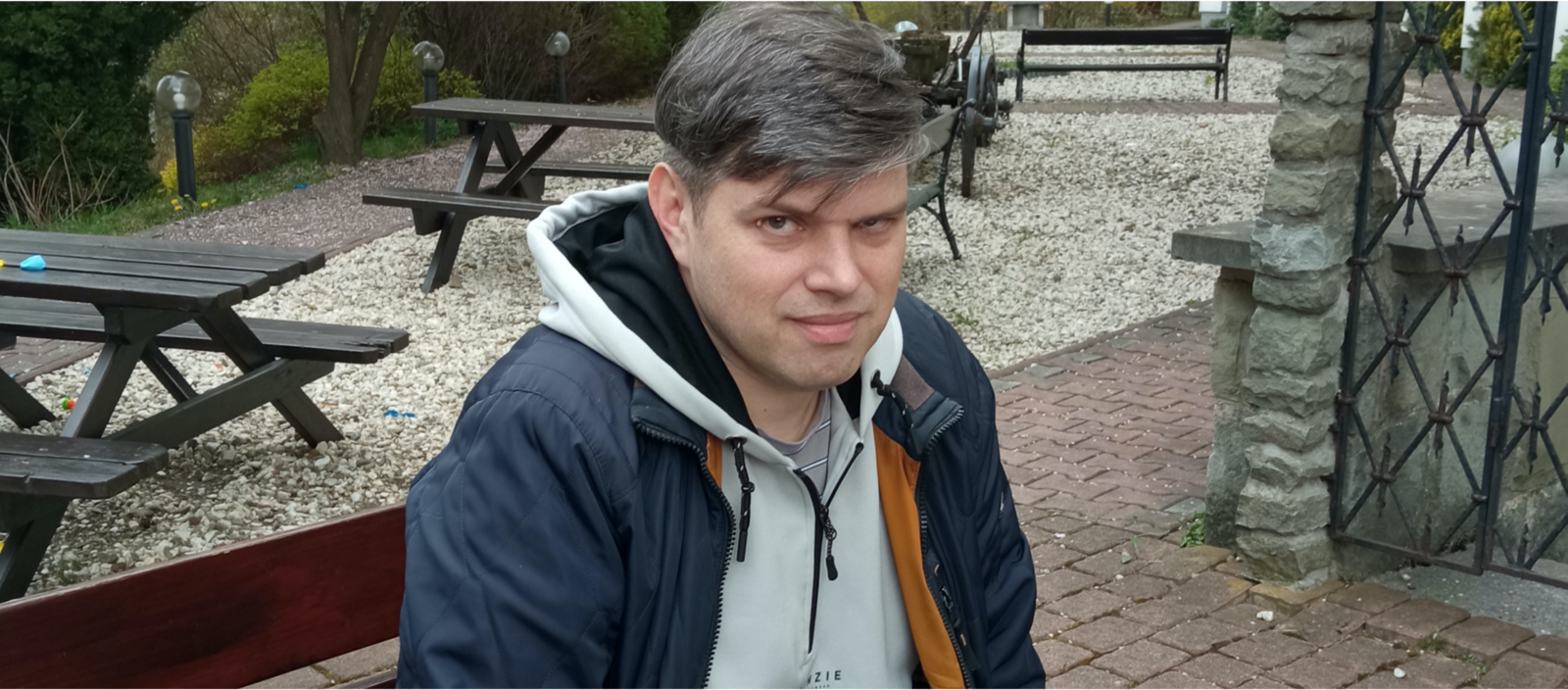 It's a sunny day and Sergiy leans on the walking stick he holds to sit at a table outside a hotel cafe in Uston, Poland. The hotel is where he lives now with his family.
Sergiy's story is all the more challenging to listen to because he is living through a war with Russia for the second time. Or, to be more accurate, the presence of war has been a reality for eight years in his native city, although things are now worse than they have ever been. He and his family lived in Kramatorsk in the Donetskiy Oblast region of Ukraine, which is part of the Donbas region.
My war started in 2014 and has lasted eight years already. 
Before the war began in 2014, Sergiy had two jobs. Despite his disability, he's always taken pride in working hard to provide for his family. He was a merchandiser for the company, Nokia, and also worked in the IT field. He describes his wife as loving and supportive and his two daughters as talented. They lived together in Kramatorsk with Sergiy's mother who helped to care for them all.
The day before the war started, Sergiy collected a new car for the family. The very next day, the car dealership was attacked and robbed. Soon, constant shooting and bombing began and it became impossible to move around the city. To their horror, Sergiy and his wife witnessed their neighbours house being flattened by a bomb.
When Kramatorsk was captured by the invading troops, Sergiy's family left for Kriviy Rih and found a place where refugees could stay. In only two weeks, Kramatorsk was released and the family returned to try to resume their lives. Sergiy's wife went back to work at her job in a Ukrainian bank and everyone tried their best to get on: repairing their home, finding work, teaching their children and making plans for the future. The war continued to rumble on during this time, but it wasn't that intensive. In 2015 there were attacks in the city, but it was possible to stay inside and out of the way of the trouble, and things calmed down quickly. Still, Sergiy and his family have lived in a region clouded with war and the threat of attacks for eight years.
On February 24, at 4am, Sergiys wife woke him up. Loud sounds of bombing could be heard outside.
She just looked at me and said, 'It's the bombs.'
For two days they remained inside their building. Sergiy's disability meant that it was too painful and difficult to retreat to the building's cellar, so the family sheltered in the middle of the building, in a corridor that had walls on either side of it. There were no other properly equipped shelters in their area.
One of Sergiy's friends has a job that's connected to transportations abroad. This friend proposed that he could help transport the family to Poland by bus. Sergiy was anxious about it, but it was fast becoming obvious that there wasn't much choice; there were no food supplies in the city and their own reserves were about to run out. Thinking about his children and his wife, Sergiy made the decision to move.
Since the war began in 2014, the family have already had emergency bags packed with all the documentation they would need. They added some extra clothing for the children and their remaining food. It was dangerous to drive by car because of the risk of attack, and they were also low on oil, so they decided to take the train to Lviv where Sergiy's friend had said he would meet them.
The family reached the local railway station by taxi. There is a volunteer organisation in Kramatorsk named Tatahab, and their people were on duty at the station, helping to settle passengers on trains. It made everything much smoother and less traumatising.
I'm so very thankful to the volunteers in our city who were helping and supporting everyone greatly. Their work is priceless. 
They took a train to Uzhgorod, which would stop in Lviv. It was extremely overcrowded and every space on the floor was taken up by people sitting or laying. Sergiy was compressed into a seat and had to remain in the same position, without any room to stretch or move, for the whole journey. He knew he would struggle to walk when they arrived at their destination. The train had to stop several times as it passed through dangerous sections of the route. All the lights would be turned off and, in complete darkness, the passengers would sit in silence hoping that the train would not be targeted. There was no way of predicting what might happen, or if they could hope to arrive in Lviv alive.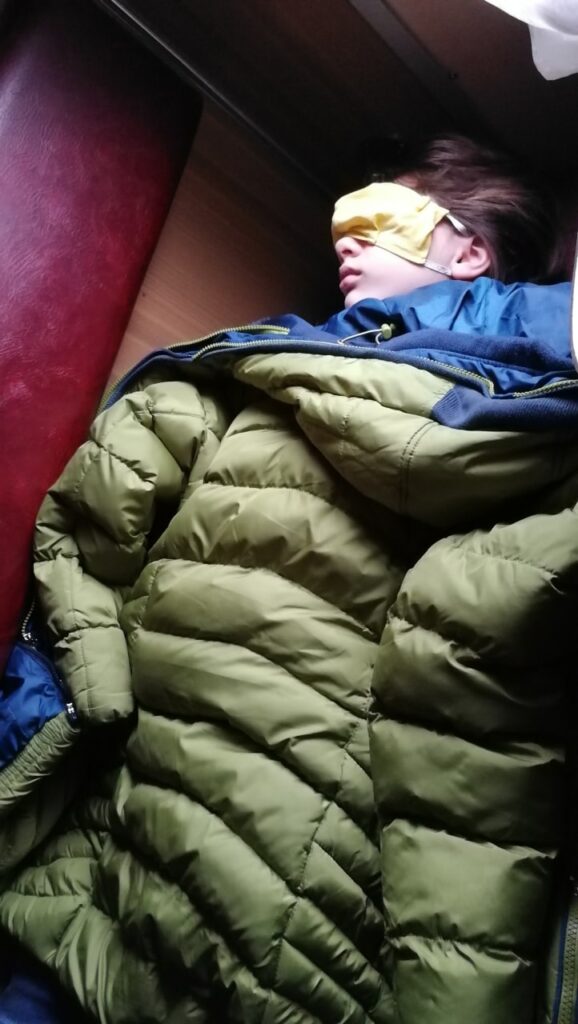 On the train, it really felt that there was nowhere to run and hide. 
It was a relief to reach Lviv, although Sergiy could hardly walk and taxis couldn't get close to the station building because of the crowds. Finally, the family were able to take a taxi to the bus station, where Sergiy's friend, who had organised the transport, was meeting them. In comparison to the train, the bus was very comfortable. It took them to the border at Kracowiec.
There was a man on the bus called Viktor. He was so supportive of me and my family. He cared for us like a mother and I'm very grateful to him. 
Viktor was asking about the family's needs and trying to help them to find accommodation. Armed with some of the information they needed to take a decision, the family decided to head to Katowice.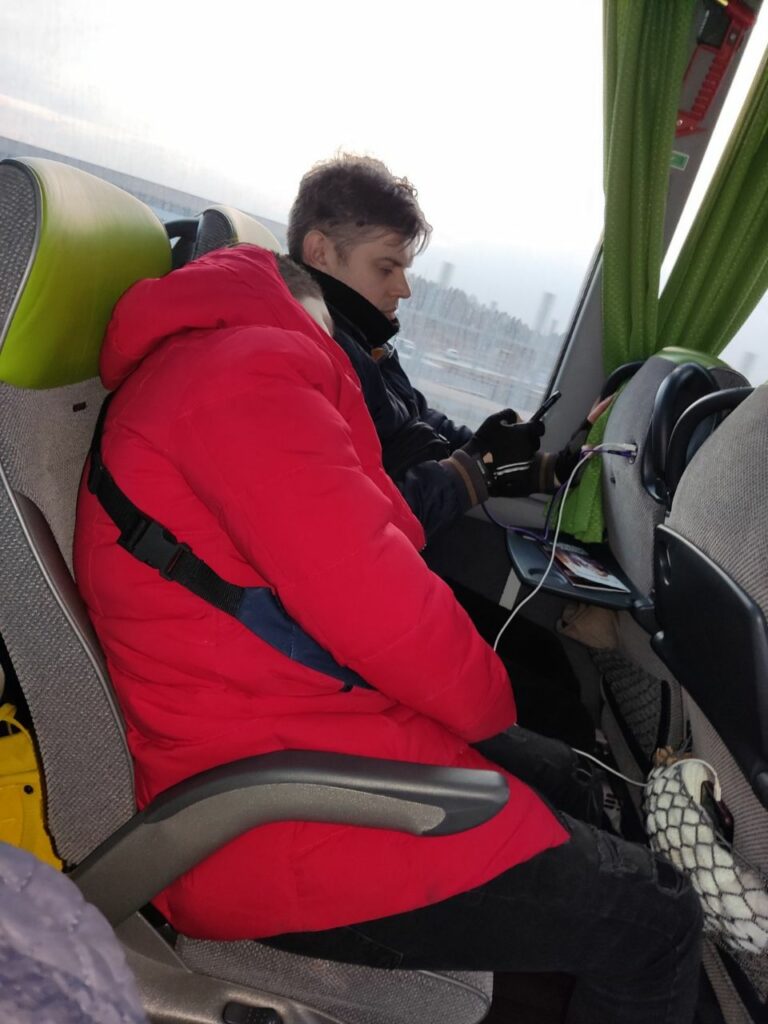 At the border, everything was very well organised and Sergiy's family were treated with respect and care. They travelled on to Katowice and, as soon as they arrived there, were directed by the police to a volunteer point, at the bus station, that would be able to find them a place to live. Sergiy was touched by the fact that the police accompanied the family to make sure they didn't get lost in the unfamiliar city.
After what we had passed through, the bus station in Katowice seemed like heaven to us. But it was so strange to just go to the bus station in an unknown country to find a place to live, when you don't know any of the places or people. My daughters, my wife and I felt like we were headed to 'nowhere'. 
They were met by volunteers offering food, warm shelter and free SIM cards for their phones. Sergiy's wife cried tears of relief and happiness. Once they had rested for a while, they were taken to an organisation called Karitas by car. The organisation is focused on finding accommodation in Poland for Ukrainians and Sergiy noticed that many of the people working at Karitas were disabled.
They supported us in every way. They helped us to make decisions, found a place for us to stay and made us feel very comfortable and safe. Before we left Karitas they even gave us warm hugs.  
The family were taken on to Ustron, to stay at a hotel on one of the picturesque mountains there, named Wilga. The workers at the hotel greeted them with warmth and everything was ready and organised for their arrival. Sergiy, Anna and his two daughters have stayed there ever since.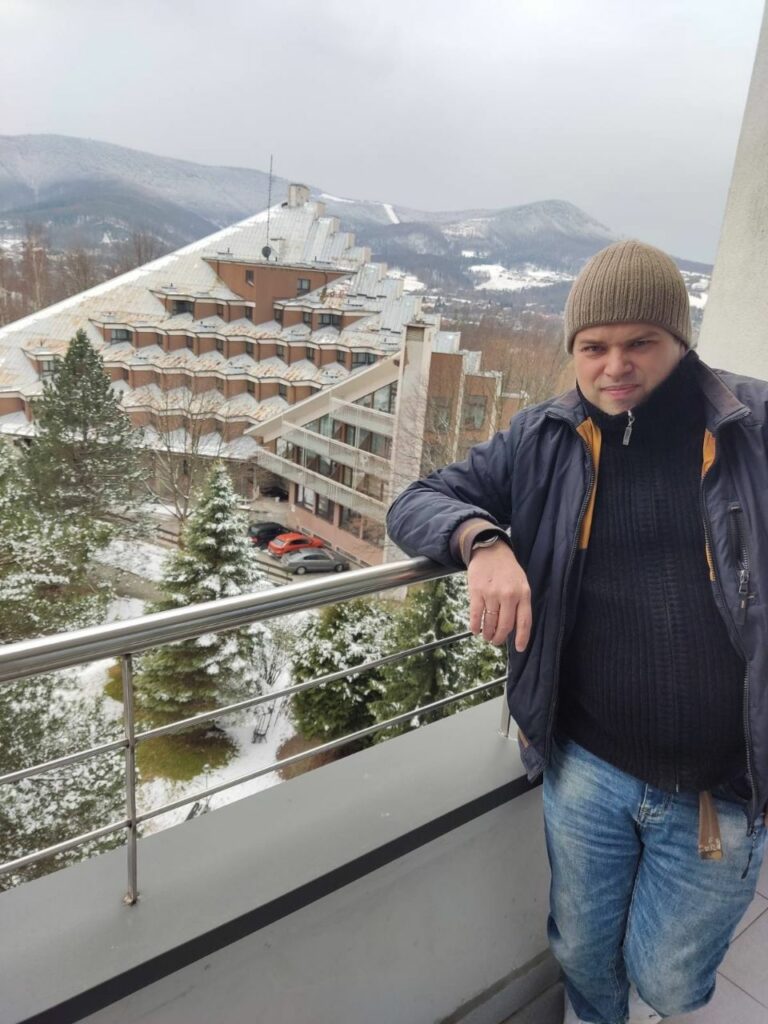 I don't want to go back to Ukraine again. It's hard to say that about my motherland, but it's so unpredictable and impossible to know what to expect if we were to return.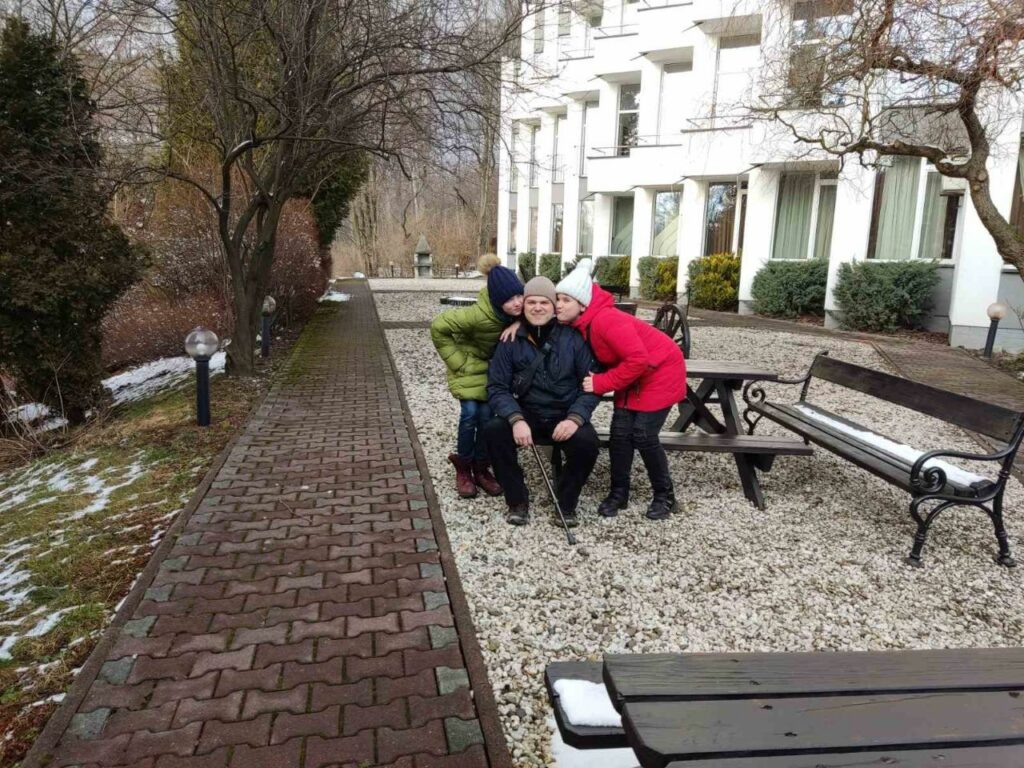 Having lost everything – twice – because of the war, Sergiy and his family are afraid to start life again in Ukraine. Rather, they wish to do their best to settle in Poland. Sergiy's daughters are attending a local school and learning Polish to prepare for studying in Polish next year. The youngest is a very talented illustrator and the eldest is keen to follow her father into a career in IT. Sergiy and Anna are doing their best to find work, but transport is currently a problem for them.
The biggest difficulty is that we are in the mountains and quite remote. It's hard to get to work places from here, but I'm trying to find someone who could share their car with us. 
Sergiy says that the family feel safe here. The accommodation is very comfortable, the people are friendly and the food that they are still provided with is nutritious and good.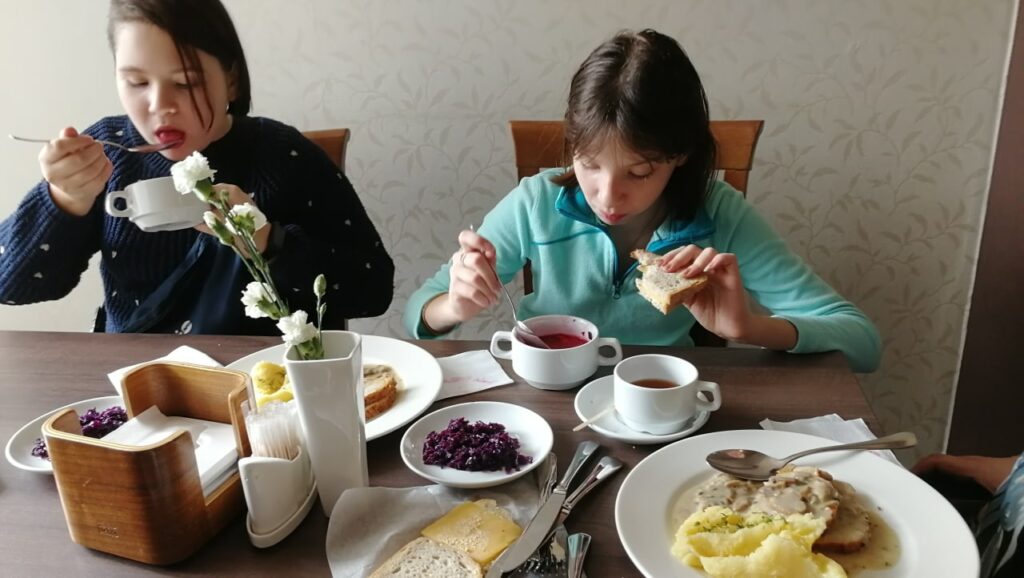 We hope to make a better situation for ourselves and have the chance to finally settle our lives without the fear of war.