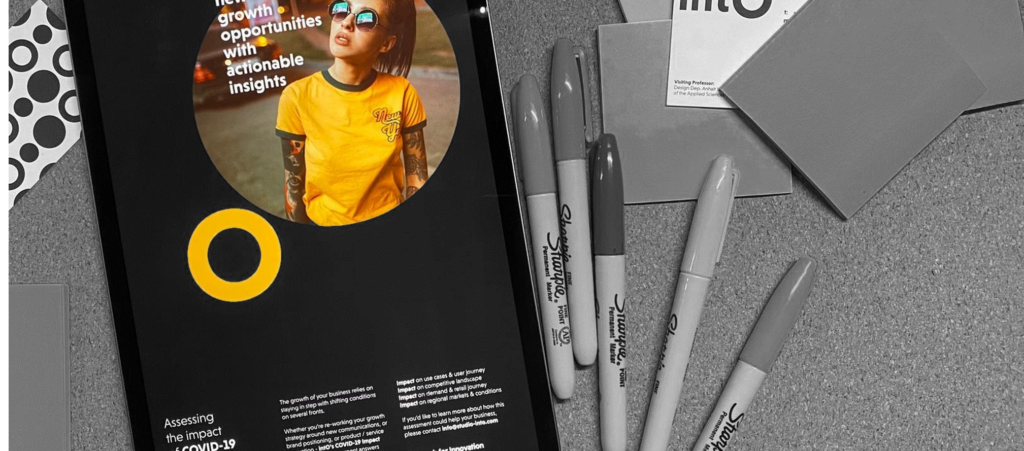 Join our Impact Assessment Digital Studio Session: July 28th / 11am – 12.30pm (BST)
Learn more & register HERE
2020 is already the most disruptive and memorable year in a generation, and the reverberations of the coronavirus pandemic will change the landscape of lives, across the world, forever.
It's an energising time to be working in the innovation industry; few businesses, regardless of sector, will survive 2020 without adaptation. For many of intO's clients and prospects, moving into a 'new normal' presents an opportunity to wipe the slate clean, adapt quickly and thrive. For just as many others, the climate of uncertainty and the scope of change required feels paralysing. Every organisation needs to seek new answers from stakeholders, existing customers and future customers to inform strategy and planning and move forward. As a business, intO has been no exception. 
Over the past two months, our team has developed a new, tiered research programme for clients: COVID-19 Impact Assessment Research Programme. It's designed to examine the granular reality of lived experiences and needs, rather than trying to understand impact by reviewing only numbers. We are already helping businesses to reimagine scenarios that allow them to respond to emergent customer priorities across different markets around the world.  
What it delivers:
intO's COVID-19 Impact Assessment delivers custom insights and guidance related to four growth factors:
USERS – new priorities, expectations and targets

COMPETITORS – new angles of differentiation and relevance

RETAIL – new barriers and pathways to purchase

MARKETS – new signifiers of developing versus developed
How it works:
Our global team of Local Experts are on the ground in every continent, living in the mix of everyday cultures within established and emerging markets. It's this unique distribution of the intO team, coupled with our proven remote research methods, that means we can take nimble action to help you reassess, reimagine and respond to the changing priorities of your international markets and customers – regardless of travel restrictions and quarantines. 
Who it's designed for:
We research in-detail and in-context to discover how local people, worldwide, really think, plan, act, spend and live. Whether you're formulating a growth strategy around communications, brand positioning or product/service innovation, our COVID-19 Impact Assessment can deliver urgent questions and answers within one month, and/or an in-depth analysis within one quarter, and/or consistent tracking for up to one year. 
To discover more and arrange a call to discuss your unique requirements, please contact [email protected]
Strategy Business Publications Innovation Social Change Research